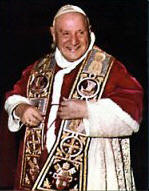 The Good Looking One and I went out to the Catholic bookstore in Spencerport yesterday.
I stumbled across at least five books that in the past I would have been tempted to buy. And a couple of DVDs. But since last summer I've had a new rule in place: For every book I buy, I have to get rid of two that I already own.
Too many books. Not in keeping with Franciscan poverty.
Heck, I don't even have a enough room to put them all out on shelves anyway.
So ... I left the bookstore without purchasing anything.
I helped to counter the temptation to buy by thinking of all the books I had at home that I had not finished, or even started. I thought in particular of Blessed Pope John XXIII - maybe inspired by the recent news concerning Pope John Paul II's impending beatification.
Last night I got out our copy of the DVD about Blessed Pope John XXIII (the one starring Ed Asner), and my copy of John XXIII: The Official Biography by Mario Benigni and Goffroedo Zanchi. He was, of course, a lover of knowledge and books himself.

We made it as far as his election as Pope before bed beckoned.

In the book, I picked up where I had left off: When he was a seminarian, ages 17-19.
His prayer life even at that young age tweaked my 55-year-old conscience. His struggles with pride sounded familiar.
I was particularly struck by his battle with trying to draw attention to himself by showing off his knowledge.
"He hints (in Journal of a Soul) that he used words and clever phrases out of a secret desire to flaunt his knowledge and to make known, whether directly or indirectly, that he had studied."

Just like me. How often do I make sure I insert some joke or comment just to make sure the other people know how much I know?
I need to learn to hold my tongue and follow the humble example of Blessed Pope John XXIII - another pope I hope to see declared a Saint in my lifetime.
Pax et bonum