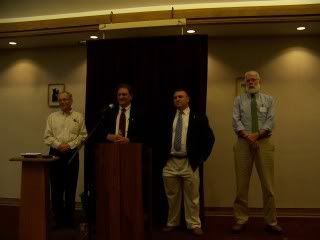 Dale Ahlquist was on page 8 of his 9 page presentation on "Apocalypse Later" when he realized he did not have page 9 on the lectern. It was in his briefcase in another room.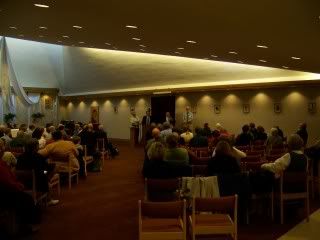 Never mind.

A couple of quips, and he ran out to retrieve it, turning what could be for many speakers an embarrassing moment into a bit of whimsy and self-deprecating humor.
Typical fare for a Chesterton Conference.

Ahlquist, President of the American Chesterton Society and host of EWTN series on Chesterton, was one of four speakers for the conference. He was joined by Dr. Tom Martin, Professor of Philosophy at the University of Nebraska, Kearney, who spoke on "The Ultimate Test": Joseph Pearce, author of a myriad of books, including ones on Chesterton, J.R.R. Tolkien, Alexander Solzhenitsyn, Shakespeare, and more, who spoke about "Transforming the Culture Through Beauty"; and Kevin O'Brien, actor, writer and director of Theater of the Word Incorporated, who, well, stepped aside and let Hilaire Belloc "Roar Again."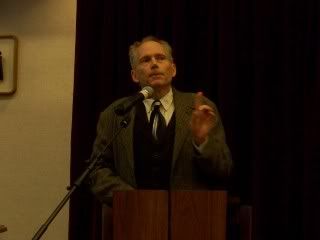 Lots of observations on the culture. Lots of Chesterton. Lots of conversations in between the talks. Lots of books for sale (of course!).
A delightful day.
Pax et bonum