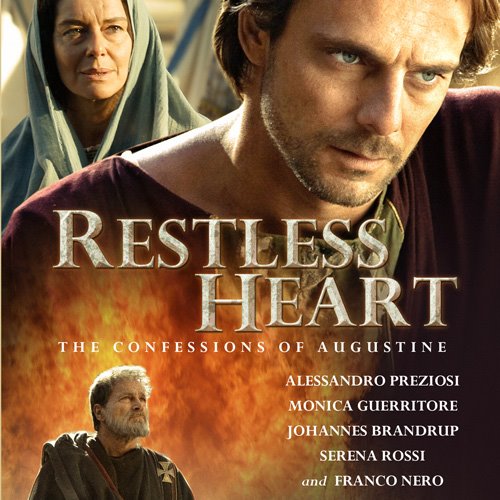 Last night the Good Looking One and I went to see
Restless Heart: The Confessions of Augustine
. The local Indian Catholic community arranged for a showing at one of our area theaters for a week. Thank you.
I did not know a lot about the movie before we went. I was surprised to see a "saint" movie being shown at a regular theater, and I wondered who was behind it.
Once it started, I guessed that it was an Italian production like many of the others that Ignatius Press releases, and the breaks/blackouts suggested a made-for-television production. (I checked online later and learned it was indeed edited from an Italian television miniseries.)
Good acting; decent production values; some realistic sets, costumes, and props.
It did stray from some of the facts, and even introduced characters who were not part of the true story. Hagiographic films have a history of such creativity, and I don't have a problem with such things when they serve the dramatic purpose without distorting the underlying truth. That was the case here for the most part - though the attack on the cathedral and the whole rhetorician for the emperor bit seemed contrived, and having the mistress choose to leave rather than having Augustine end the relationship, maybe to make Augustine seem like a "nicer" guy, strayed too far from the truth for my taste. And it was jarring to hear the Christians called Catholics, an historical anachronism.
I wonder what was lost in editing it from a miniseries? Some things needed more development - such as the Donatist/Christian dispute - and Augustine's character needed more depth. Perhaps in producing a feature film they should have focused on just one part of his life rather than trying to cover as much as a miniseries is able to do.
Overall, okay, but I think there's a better St. Augustine movie to be made.
St. Augustine's
Confessions
was an important book for me, by the way. In the mid 1970s when I was spiritually adrift, the two books that helped me get back on the right path were
The Confessions
and Thomas Merton's
The Seven Storey Mountain
. Those books showed me that even flawed, sinful men can turn things around. I needed those models to get me to turn around. Shortly after reading them I read G. K. Chesterton's biography of St. Francis, and I count those three books as the keys to who I am now.
So, see
Restless Heart
, but maybe read
The Confessions
before you go.
Pax et bonum