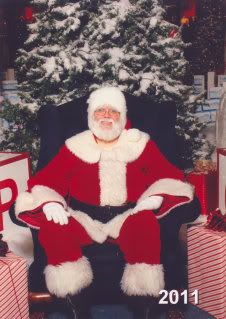 I arrived for my Thursday evening shift as Santa's helper. The helper with the shift before mine came in to the changing room for the changeover, and we chatted briefly.
He's a recent retiree with a longer beard than mine, and long hair to boot. He mentioned he had 31 paying gigs as a helper lined up!
Wow.
In addition to my shifts at the mall, I have only two other appearances this year - at a Veterans center, and at a Knights of Columbus party - both voluntary.
Maybe in another decade when I can retire I'll be able to let my hair and beard grow and line up a comparable number of paying appearances.
I'll do freebies, too. Not the best businessman, but in line with the season!
Pax et bonum