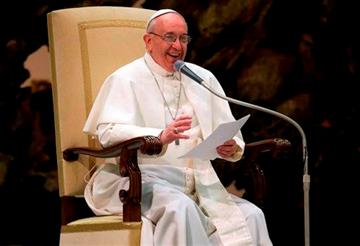 Following up on some recent surprise moves, Pope Francis today proposed a number of changes in Vatican and Catholic procedures and protocol.
First, he declared that the Church should have an official liturgical dance - the Tango. "The Tango is the dance of love," he explained. "We are a religion of love."
He also instructed the music director of St. Peter's Basilica to recruit some liturgical guitarists to play at future services.
To promote unity with Unitarians, he suggested that in joint services coffee and donuts can be substituted for bread and wine.
He has also asked that the Vatican consider fielding a national soccer team to compete in tournaments and eventually the World Cup. "We must find ways to reach people through the things that are really important to them," he said.
A Vatican spokesperson said with sob that more announcements are pending.
Pax et bonum