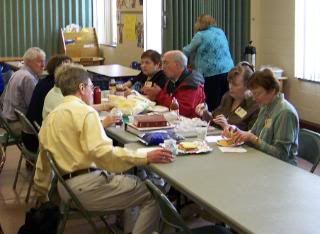 Two weeks ago, our Franciscan Fraternity lost one of its long-time members. She had been struggling with illness for many years, was confined to a wheelchair, was on dialysis, had other health issues, and had missed a number of meetings due to her problems. Her loving husband had been her primary caregiver, but he had suffered a mini stroke just a few weeks before her death - I suspect from all the strain he was under.
Her death was sad, but not unexpected, and now she is at peace.
A number of fellow Franciscans gathered at her wake to pray a suggested Franciscan Wake Service. It was a tribute to her, and a sign of support for her husband.
Last night, to my surprise, he was at our Fraternity meeting. It was good to see him there, getting out, participating, receiving some of the emotional and spiritual support he needs at this time.
That's one of the beauties of belonging to a Fraternity. We are in community; we are brothers and sisters growing together, nourishing and supporting each other. Though I have reclusive, hermit-like tendencies, I know I need community as well.
As we left the meeting - which is held in the parish life center (the parish entrusted me with a key to the building so the Franciscans can meet) - my wife commented on the large size of the rectory. It used to house a number of priests. We are down to one priest living there - a hospital chaplain who used to live there moved, and the retired priest who was in residence passed away earlier this year, leaving just our pastor. We both wondered if he is lonely in that big rectory. I said I hope the diocese arranges for another priest to live with him so that he too can have some kind of community, someone to talk to or even just to sit with at dinner. I hope he has some sort of community already with some fellow priests outside the parish.
Maybe I'll invite him to join us for some of our Fraternity meetings.
Pax et bonum