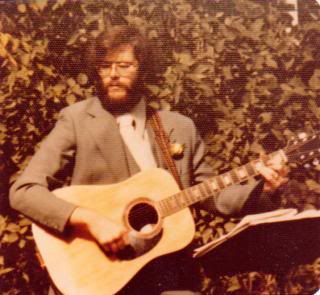 If I
had to play a gig in a couple of weeks, what songs do I have ready or almost ready to play?
If there were kids there, definitely –
"There's a Great Big Monster Under My Bed"
"On Top of Spaghetti"
"Puff the Magic Dragon"
"Abi-yo-yo"
"Henry My Son"
"Deportees"
"Midnight Special"
"This land is Your Land"
"Blowing in the Wind"
"Maggie (was a boozer)"
"I'm Gonna Live 'Til the Day I Die"
Pete Seeger's version of "Give Me that Old Time Religion"
"Bottle of Wine"
"Blood on the Saddle"
"Tie Me Kangaroo Down Sport"
"My Get up and Go Has Got Up and Went"
"The Swimming Song"
"Pick a Bale of Cotton"
"Going Down the Road Feeling Bad"
"Walking Down the Line"
"Lonesome Valley"
"Helpless"
"Open the Eyes of My Heart"
"Hello, Mary Lou"
"Proud Mary"
I'd probably need to prep a few more songs.
Thank God no one has asked me to play a full show!
Thank God I don't have that green suit any more that I wore 35 years ago to play at a wedding!
Pax et bonum